Bus flags, sometimes know and Bus IDs are the minimum required signage for a location to be used as a bus stop. In most cases it's a flat panel at the top of a pole. Sizes vary, as does the information on the flag.
Flag in this context seems to have two possible meanings: either the resemblance to a flag:

or the acting of waving your arm (like a flag) in order to get a bus to stop, also known as hailing:

So, what different kinds of bus flag will you find around the world?
London

A familiar site to anyone who's lived in london. Probably one of the best public bus information systems in the world. A roundel, towards information, current location, buses. And a nice big stop identifier on the top. There's a lot wrapped up in the information here, i should probably do a proper analysis on London bus information in a different post. Sound like fun eh!
Manchester

Manchester has a similar approach to London. The big icon is the identity of Manchester Buses (GMPTE), on the back there's a picture of a bus – so the front and back of the flags are actually quite different. I can count about 8 or 9 typefaces on the flag, and at least 3 of are difficult to read. You wont be short of public information at these stops, as you'll see three (!) different phone numbers you can contact. No 'towards' information, no stop address, no attempt to align any of the bus numbers. This is my home town, i'm a little embarrassed.
Paris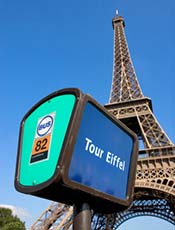 Paris have these rather nice old looking lumps for bus flags. Big and 3D, they somehow manage to feel very sympathetic to the city.
Berlin
Madrid
Dublin
Belfast
New York
Washington city
This is a Washington Metro flag with an additional Maryland MTA flag stuck on for good measure.
Seattle
Los Angeles
Zurich
Roma
Stuttgart
Portland
The above seems be the current system. They might well be moving over to Trueform's Elite system though as the Elite system's documentation is peppered with Tri Met graphics.